Let's talk about the concept of 'connection' and the opportunity for organisations to get better at connecting with their communities – in order to (genuinely) fulfil sustainability intentions, remain competitive, provide a sense of purpose….. let alone do the right thing.
More and more the world is encouraging corporates to join the dots between themselves, their community and the environment: Living standards framework (NZ), sustainable development goals, 'people before profit', triple bottom line and integrated reporting to name a few examples. It's no longer enough to only talk about the profit from your service or product. Today's currency is an ability to clearly share your social and /or environmental intentions and impacts.
This isn't news. But it is becoming more and more critical for businesses to work this out, as employees and customers become more aware, interested and demanding that their jobs and consumer goods come from companies that are (or are trying to be), a force for good.
"Business is good for community & community is good for business".
For too long this view has been wrongly interpreted and implemented as business carries community… oh the ego that goes with this way of thinking! I wonder how many Corporate Social Responsibility (CSR) & sustainability strategies include regular invitations for selected community groups to join them in-order to learn from them? The one-way view of 'Business is good for community..' is a thing of the past. It's time to join the dots and have the learning (insight, innovation, relationship, awareness etc) go back into business.
Joining the dots between business and community is one part of the equation. Equally important is extending this to join the dots to an individual too – enabling employees (not only leaders) to see themselves connected and accountable to the sustainability cause as well.
In a conversation today regarding leadership for sustainable business, we shared the challenges that we come up against and try to help organisations with. There's a common observation that while the topic of sustainability is valued, it's not personal. As in, individual senior leaders struggle (or avoid?) putting themselves in the picture alongside team, business and community.
Example: "Yes it's important for 'the business' to think sustainably and invest in these initiatives… but I'm ok, what I do and how I am is separate from all that…I don't need to change".
The Three Hands Connected Leadership Model supports leaders and individuals to authentically put themselves in the picture. To consider themselves alongside team, contributing to business and a part of community. There must be some personal alignment, accountability and buy-in from leaders, especially future leaders, if any company is deemed to be genuinely committed to sustainability (future minded approach to people, planet and profit), in a way that their people and customers can experience and connect with.
I guess what we're talking about is growing 'social capital'. In his (brilliantly relevant) book 'Community – a structure for belonging', Peter Block refers to indicators of community success (health, wealth and educational achievement of its citizens) as being fully dependant on the "quality of the relationships – the cohesion – that exists among its citizens".
"We need to create a community where each citizen has the experience of being connected to those around them and knows their safety and success are dependant on the success of all others".
If leaders believed their personal success is reflected by the success of their community (and environment), then we'll be on the right track to building more sustainable, future-minded businesses.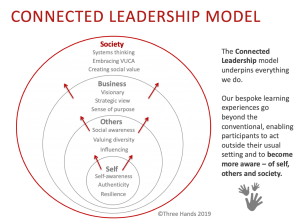 Finally, I believe culture is leadership. And therefore leadership development, that helps leaders to become more vested in a sustainable business model, is a great starting point. (Not only for companies looking to deepen an existing CSR and sustainability journey, but those looking to take the first step).
Three Hands NZ helps organisations to join the dots – for both business value and social value. We develop leaders at the centre of purpose, personal capability and positive social impact. In doing so, we create an opportunity for them and their organisation to better connect with community and key societal issues.
#jointhedots #connectedleadership #community
Note: There are lots of other 'dots' besides leadership development when organisations are thinking about a sustainable business model (i.e. one that centres around how you show up in community). Neil Gaught describes this as a Single Organising Idea and explores this in greater detail and with greater insight in his book CORE, which I highly recommend.