We develop leaders at all levels, through an experiential approach (away from the training room), connecting participants with non-profit partners and relevant social or environmental issues.
Participants experience different people, issues and environments first-hand, making for a powerful and memorable learning experience – while also creating positive social impact.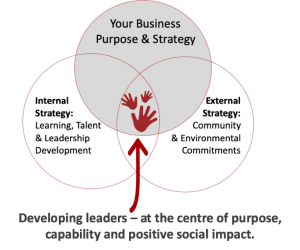 It's an approach that enables businesses to integrate Corporate Social Responsibility (CSR) into core business activities like talent and leadership development – ensuring it's built in, not bolted on.
'Plug-in' workshops that fit alongside existing programmes, integrating important social or environmental themes relevant to your business.
Comprehensive leadership development content, based on our Connected Leadership model – with  an experiential societal project as the central feature.
Talent strategy support using a 'Connected Leadership' approach, includes succession planning, future workforce development and retention. We help you to align your product/service, people, performance and purpose.
All of our work is offered with personal and team profiling,  360 feedback and 1-1 or team coaching to embed learning and action insights.
Have a Question? Get in touch