We work with leaders at all levels following a 'purposeful leader – purposeful business' approach.
Our programmes are unique because participants apply their learning through tailored practical experiences that are aligned to current leadership behaviours, your business purpose and role in society.
Participants experience different people, issues and environments first-hand, making for a powerful and memorable leadership development experience – while also creating positive social impact.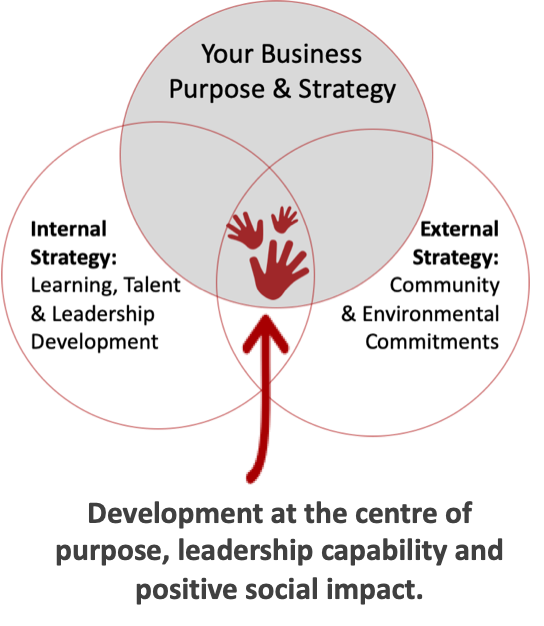 Programme outcomes include: 
Participants developing, practising and embedding key leadership behaviours while outside of their usual environment – where the learning is memorable and insights stick.
Leaders plug into social issues of relevance to your business– issues that, as leaders and future leaders, they need to understand and embrace if your business is to be sustainable and an employer of choice.
Overlap with corporate responsibility, culture, meaning and ultimately purpose – making for a powerful and holistic way to engage, develop and retain leaders of today and tomorrow.
Ensuring your Sustainability & Corporate Social Responsibility strategies are built in, not bolted on.
If this sounds interesting, let's explore how we can help!
'Plug-in' workshops that fit alongside your existing programmes. We integrate social or environmental themes relevant to your business and critical for your future leaders to understand.
Full development programmes with an experiential community project as the central feature.
Exec and Senior Leadership Team experiences. Meaningful 1-2 day experiences creating space for connection to self, each-other, company purpose and community.
Talent strategy, OD and Leadership consulting. Using our 'connected leadership' approach, we help you connect people and culture plans with purpose and performance for sustainable business.
All of our work is offered with personal and team profiling,  360 feedback and 1-1 coaching to embed learning and action insights.